AIB AND IRISH GREEN BUILDING COUNCIL PARTNER UP
AIB and the Irish Green Building Council (IGBC) have announced a partnership to support Ireland's transition to a more sustainable built environment through research, education and the provision of green products. AIB is a leading lender to the Irish house building sector, while the IGBC is a registered charity that advocates for green policies, provides education and training for industry participants and provides tools to measure and accelerate progress.
The collaboration will see the two entities working together on a number of fronts. AIB is committed to creating sustainable communities, and the collaboration with IGBC will see this commitment focused on the construction industry. This will be achieved both through developing research, education and new green loan products for the sector by sharing knowledge and education resources to further enhance the skill set of AIB staff and others within the finance and construction industries. Buildings and construction activity account for 36% of greenhouse gases emitted, half of raw materials used, and more than 40% of solid waste produced annually in Europe.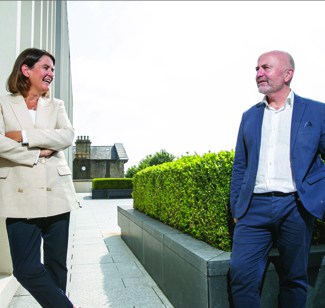 Cathy Bryce, Managing Director of AIB Capital Markets commented: "AIB is committed to do more to ensure a greener tomorrow by backing those building it today. As well as our own operational commitments we are supporting our customers in the transition to a net zero economy across multiple sectors. We are looking forward to collaborating with the IGBC in the years to come".
Pat Barry CEO at the Irish Green Building Council said: "The Climate Action Act enshrines into law the objective of reaching climate neutrality by 2050. To achieve this goal, sustainable, energy-efficient homes must become the new normal. The scale of that challenge means private investment must be mobilised. We are very excited to work with AIB, one of Ireland's leading banks, to progress that agenda".
Derek O'Shea, Head of Development Finance in AIB added: "Collaboration is key in the transition to a net zero economy. Our work with the Irish Green Building Council will support the development of more green homes, promoting biodiversity and more sustainable commercial buildings for employees".
The announcement comes as a growing number of investors are setting broader environmental requirements for the assets they purchase and operate. Environmental, Social and Governance (ESG) analysis has become an increasingly important part of the investment process. The recently published European Taxonomy Regulation aims to define EU-recognised criteria for identifying sustainable activities going beyond energy efficiency. These developments will impact investments in green homes in Ireland in the coming years.
The Irish Green Building Council has developed a national certification for quality and sustainability in new residential development that is fully aligned with the EU Sustainable Finance Taxonomy. The Home Performance Index goes well beyond the Building Energy Rating (BER) and addresses all the environmental impacts of new homes and encourages home builders to improve the health and wellbeing of occupiers.
____________________________________________________________________
Denise Maguire   Editor of Irish Construction Industry Magazine & Plan Magazine