Do you have a new product or service? Have you launched a new business, won a new contract?

Send your information to us at michael@mcdmedia.ie and we will promote your news here.
Click here to submit your details, or request a call back

_______________________________________
SISK SOWING THE SEEDS OF THE FUTURE WITH 11 NEW APPRENTICES
John Sisk & Son's new cohort of carpentry & joinery apprentices has completed one of Sisk's first tree planting exercises as part its commitment to planting 1.7 million native woodland trees over the next nine years. Sisk's new group of apprentices got stuck into help plant the trees near Manor Kilbride in Co. Wicklow.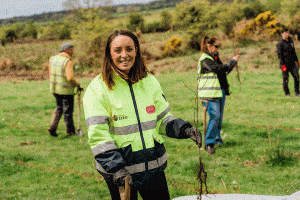 Normal apprentice recruitment was briefly interrupted as a result of Covid 19, but Sisk will hire 11 apprentices this year. This continues the historic Sisk family tradition of hiring carpentry & joinery apprentices each year for its training centre on the Naas Road in Dublin.
Working in conjunction with the Woodland Environment Fund and Forestry Service Ltd, over 46,000 trees were planted in Manor Kilbride, Co. Wicklow with an initial investment of €20,000. The tree planting forms one of the first steps for Sisk in line with its recently published 2030 Sustainability Roadmap that outlines ambitious targets and actions, aligned with UN Sustainable Development Goals. The planted saplings are primarily native broadleaf with pockets of native conifer (scots pine). This mix will provide greater habitat and species diversity over the years.
In 2019, the United Nations General Assembly declared 2021–2030 the "UN Decade on Ecosystem Restoration". Sisk has acknowledged this call to action and recognised the need for a massive acceleration in the global restoration of degraded and destroyed ecosystems, and the positive impact this would have on the climate crisis, biodiversity, food security and water supply.
The land is owned by local farmer Martin O'Hara. By the planting of this Native Woodland Martin too has demonstrated his commitment to the sustainable management of forestry and native woodlands in Ireland. This will also support Ireland's plan to tackle climate change by planting 440 million trees by 2040.
The planting of this Native Woodland was funded by the Department of Agriculture Food and Marine through an establishment grant and 15 annual premium payments.
Sinéad Hickey, Head of Sustainability, Ireland & Europe, John Sisk & Son said: "We are delighted to have partnered with Martin O'Hara and his family, Forestry Service Ltd and the Department of Agriculture, Food and Marine in Manor Kilbride. We have a target to plant 1.7 million tress by 2029, which forms a part of our wider sustainability roadmap. This is an important first step in our journey are demonstrates our commitment to a range of sustainability topics our company and wider industry needs to address."
Ronan Murphy, Manager, Joinery and Training Centre, John Sisk & Son said: "Our recruitment of apprentices is an historic Sisk family tradition. Covid-19 has presented many challenges in our training centre, but we have adapted to work within guidelines. Sisk's investment in our apprentices is part of our strategy to give young people the opportunity to go on to become our future foremen and site managers. Our model is tried and tested with many apprentices getting opportunities to work in Europe for Sisk."
____________________________________________________
CHADWICKS GROUP PARTNERS WITH THE IRISH WHEELCHAIR ASSOCIATION
Chadwicks Group has announced the Irish Wheelchair Association (IWA) as its new charity partner for 2021. The IWA is a community of people with physical disabilities across Ireland founded on the belief that everyone should be able to live a life of choice and equality. They offer services for those with physical disabilities to live independently, all the while campaigning for equal opportunities for their community.
As part of this new partnership, Chadwicks Group will supply a range of building materials to IWA community centres across the country to help improve accessibility for its users. The IWA operates 57 community centres nationwide and provides 1.3 million hours of assisted living services to more than 2,000 adults and children.
In addition to providing construction materials, Chadwicks Group will also team up with the IWA to raise funds for its national support services which include accessible transport, community centres, driving assessments and lessons, and respite care.
Launching today's announcement was Paralympian, Patrick Monahan who credits organisations like the Irish Wheelchair Association with helping him find his passion for wheelchair racing.
"I am delighted to team up with Chadwicks Group and the Irish Wheelchair Association for this partnership. My accident over 10 years ago forced me to face a dramatic and difficult challenge, but I did not do it alone. The support of my family along with incredible organisations like the Irish Wheelchair Association enabled me to find my great passion, wheelchair racing and for that, I am hugely thankful.
"As a former apprentice plumber, I look forward to working with the team in Chadwicks Group to highlight not only my story, but the vital work that the IWA coordinates across the country. I believe this is an exciting time for both organisations, and I am delighted to be part of their next chapter together."
Commenting on the announcement, Patrick Atkinson Chief Executive of Chadwicks Group, said, "At Chadwicks Group, we believe in empowering our colleagues to implement positive change in their local communities. These Community Centres are a vital service for so many across the country and we look forward to helping make these centres more accessible and most importantly making a real difference in the lives of those who use these centres across Ireland.
"We also look forward to learning more about the accessibility challenges in our own business through the IWA's Disability Awareness Training programme which will be made available to all our Chadwicks Group colleagues. This training will increase our understanding of inclusion and diversity in the workplace, so we can adopt best practice principles across all of our nationwide branches."
Commenting on the impact the partnership, Mildred Carroll, National Director of Community Services in the Irish Wheelchair Association said: "The help we will receive from Chadwicks in addressing the maintenance needs of our community centres will have an enormous impact on the quality of life of people with disabilities all over the country. Our community centre programmes are social, educational and recreational, providing essential support to people with disabilities in their local area, benefitting their physical and mental health. For some people, our centres are the only opportunity to meet friends and connect with their community. We are really grateful to Chadwicks for helping us to get much-needed work done across our centres."
_________________________________________________________________
MANNOK CONTINUE FLEET AND MOBILE PLANT REPLENISHMENT PROGRAMME
Mannok's Fleet Replenishment Programme reached another milestone in April with the delivery of 15 new SDC curtainsider trailers. This is the latest phase of the Programme to replace all older vehicles and plant with upgraded new vehicles, therefore reducing environmental impact, providing greater efficiencies and ensuring increasing demands are met. Since the multi-million-pound Programme of investment began in 2015, the company has purchased a total of 126 new vehicles for the road going fleet and off-road mountain fleet.
The new trailers will go into operation with Mannok's PIR & EPS Insulation and Packaging divisions over the coming weeks to replace older trailers within the fleet and will be in keeping with the fresh new image of the Mannok brand.
In addition to the new curtainsiders, Mannok are adding a total of 18 new tractor units to their fleet, with six already in operation and a further six to be received this month. Each of the new MAN TGX26.470 tractor units meet Euro 6 standards for emissions, which help to fulfil Mannok's wider sustainability goals. This month's delivery of six units will service the company's Bulk Cement and PIR Insulation operations. The third batch of six tractor units have been commissioned for delivery by the end of 2021.
Mannok's Transport Manager, Brian McManus, said of the investment in the new fleet,
"We're reaching a significant milestone as we're now starting to replace the vehicles that were purchased in 2015 when the Fleet Replenishment Programme began, which is thanks to the hard work of all involved. As part of the continuous Programme, the older vehicles and plant machinery are replaced with newer, more fuel-efficient models, which is an important part of ensuring the highest standards of fleet safety and efficiency, whilst at the same time reducing the overall environmental impact.
The fleet is used to haul everything we manufacture from packaging to cement, insulation, roof tiles, tarmac, precast concrete, blocks and a range of quarry aggregates, as well as the haulage of raw materials to each manufacturing facility. The reliance on our substantial fleet means maintaining the premium condition of all units is essential and the ongoing investment in the form of our Fleet Replenishment Programme ensures we can achieve this."
________________________________________________________
ACTAVO AND ULMA CONSTRUCTION ANNOUNCE NEW PARTNERSHIP KEY COLLABORATION FOR THE INDUSTRY
Actavo's Hire & Sales Division has recently signed a Long-term agreement with ULMA Construction to supply innovate scaffolding and formwork solutions across its branches in North Dublin, South Dublin, Cork and Galway. The collaboration highlights the growth and demand for specialist services in construction, and will result in the delivery of higher quality, more efficient formwork and scaffolding to the market.
Actavo Hire & Sales has supplied specialist products to the construction and events industry for over 50 years and, this new partnership with Ulma, further enhances Actavo's product portfolio and Service offering. Actavo provides expert knowledge to its customers, assessing potential options, and has the ability to design the technical solution for formwork, scaffolding and providing the most suitable construction material solutions that guarantee a high level of security, safety and efficiency on site.
Graham Henderson, General Manager for Actavo Hire & Sales comments "we are delighted to partner with Ulma in the provision of specialist products. Actavo is a leading supplier to the construction industry and this partnership with Ulma further enhances our existing product offering to continue to serve existing and prospective clients"
Actavo Hire & Sales is one of the leading suppliers in formwork, edge protection, fencing and general access equipment and scaffolding to the construction industry in Ireland and the UK. ULMA is an international company dedicated to the manufacture and distribution of industrialised systems of formwork, shoring and scaffolding systems with a presence in America, Asia, Africa, Europe and Oceania.
___________________________________________________________
AINSCAFF SCAFFOLDING – NOW SUPPLYING FLOATING ACCESS
___________________________________________________________